Equation of time and length of solar day
The Equation of Time is the difference between the time determined by a sundial and the clock time. It is due to the obliquity of the Earth's axis and the unequal motion of the Earth around the Sun (ellipse). The value, computed for 12:00 UT, is between -14 :20 min (near Feb 12) and +16:24 min (near Nov 4).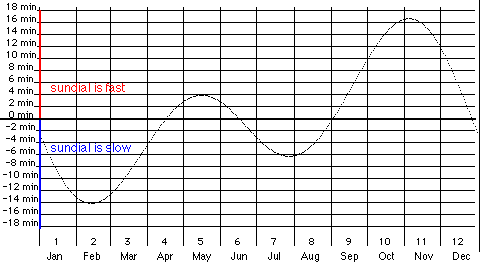 The length of the current solar day (i.e. the time interval between culmination of the Sun on prev. and curent day) is not exactly 24 hours; the difference is given in brackets (e.g. +18.8 s).
For 2001:
| | | |
| --- | --- | --- |
| | equation of time | length of solar day |
| Jan 1 | - 03:45 min | 24 h - 28.3 s |
| 15 | - 09:34 min | 24 h - 21.2 s |
| Feb 1 | - 13:38 min | 24 h - 08.1 s |
| 15 | - 14:07 min | 24 h + 02.8 s |
| Mar 1 | - 12:18 min | 24 h + 11.6 s |
| 15 | - 08:51 min | 24 h + 16.8 s |
| Apr 1 | - 03:48 min | 24 h + 17.9 s |
| 15 | + 00:02 min | 24 h + 14.6 s |
| May 1 | + 02:57 min | 24 h + 07.3 s |
| 15 | + 03:40 min | 24 h - 00.6 s |
| Jun 1 | + 02:09 min | 24 h - 09.1 s |
| 15 | - 00:31 min | 24 h - 12.8 s |
| Jul 1 | - 03:53 min | 24 h - 11.6 s |
| 15 | - 05:59 min | 24 h - 06.2 s |
| Aug 1 | - 06:18 min | 24 h + 03.6 s |
| 15 | - 04:24 min | 24 h + 11.7 s |
| Sep 1 | + 00:06 min | 24 h + 18.9 s |
| 15 | + 04:55 min | 24 h + 21.4 s |
| Oct 1 | + 10:26 min | 24 h + 19.4 s |
| 15 | + 14:17 min | 24 h + 13.4 s |
| Nov 1 | + 16:24 min | 24 h + 01.7 s |
| 15 | + 15:20 min | 24 h - 10.0 s |
| Dec 1 | + 10:50 min | 24 h - 22.3 s |
| 15 | + 04:41 min | 24 h - 28.8 s |