Elevation and Azimuth of the Moon
Elevation and azimuth of the Sun
Elevation and azimuth of the Sun and the Moon
How to compute the position of the Moon
(Basics of positional astronomy)
Select the location from the menu list,
or enter the coordinates (decimal degrees) for the latitude, and press RETURN, and for the longitude, and press RETURN (click the applet first!):


Check the time zone to get the correct local times.
To get this data window select "Day" from the "Write..." menu: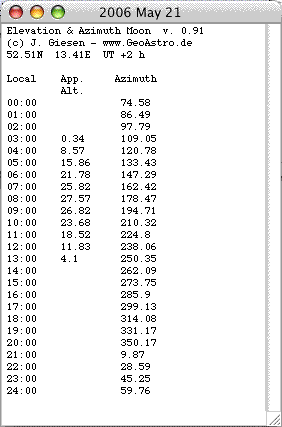 The altitude of the Moon is corrected for parallax and atmospheric refraction, which is bending the light while passing through the Earth's atmosphere.
Applet: Atmospheric Refraction
How to compute the position of the Sun
(Basics of positional astronomy)

"Instrument Buch" of Petrus Apianus, 1533
from Bruno H. Bürgel: Aus fernen Welten, 1920
---
Last Modified: 2014, Oct 14